Located in Ellenton, Florida. Blue Diamond Webs is a custom web design and marketing agency providing internet and social marketing tools that help to increase website traffic and brand awareness for small and mid-sized businesses.
Absolutely! The QR code (Quick Response code) is
indeed a powerful tool for advertising your website. Here's why: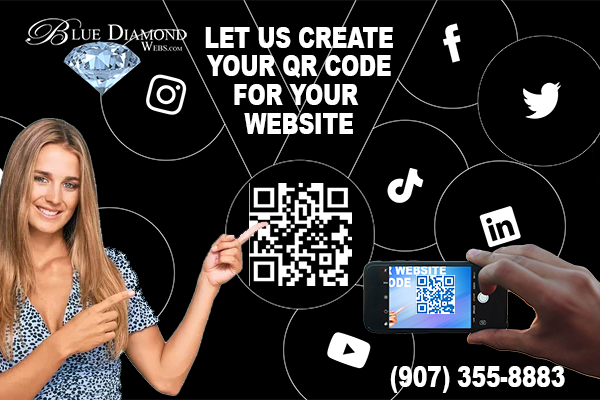 📱 Instant Access: QR codes allow users to access your website or specific content immediately by simply scanning the code with their smartphone. No need to type URLs or search – it's a quick and effortless way to direct users to your online presence.
🌐 Cross-Media Integration: You can incorporate QR codes into various advertising materials, such as posters, flyers, business cards, and even digital media. This seamless integration bridges the gap between offline and online marketing, creating a cohesive user experience.
📈 Trackable Performance: Many QR code generators offer tracking and analytics, enabling you to monitor the number of scans, locations, and devices used. This data helps you measure the effectiveness of your advertising campaigns and make informed decisions for future strategies.
🔗 Enhanced Engagement: QR codes can link users to specific landing pages, product pages, promotions, or multimedia content. This targeted approach enhances user engagement and provides them with relevant information, increasing the likelihood of conversion.
📊 Marketing Flexibility: QR codes can be customized to match your brand's aesthetics, making them a versatile tool for different advertising scenarios. You can modify their design, color, and even incorporate your logo to maintain brand consistency.
🚀 Offline-to-Online Conversion: QR codes seamlessly transition potential customers from offline materials to your website, allowing them to explore your offerings, learn more about your brand, and make purchasing decisions.
💡 Innovative Appeal: The use of QR codes demonstrates a tech-savvy and innovative approach to advertising, which can attract the curiosity of your target audience and set you apart from competitors.
👍 User Convenience: QR codes eliminate the friction of manual typing, making it easier for users to access your website. This user-friendly experience can leave a positive impression on your audience.
🌍 Global Reach: QR codes are widely recognized and used globally. Whether your target audience is local or international, the familiarity of QR codes transcends language barriers and cultural differences.
🔒 Contactless Interaction: In today's world, contactless interactions are preferred. QR codes provide a safe and convenient way for users to engage with your brand without physical touch.
Remember to strategically place QR codes where your target audience is likely to encounter them and ensure that the landing pages they lead to are optimized for mobile devices. QR codes can be a game-changer in your advertising efforts, connecting the offline and online worlds seamlessly while providing valuable insights into consumer behavior.




Connect Today
Click to Call:
(907) 355-8883
ds@bluediamondwebs.com
8111 Lemonwood Dr. S.,
Ellenton, Fla. 34222